WOD 1: "RANDY" For time complete: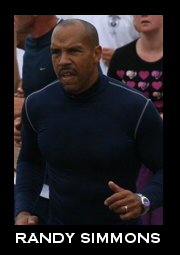 In honor of Randy Simmons, 51, a 27 year LAPD veteran and SWAT team member who was killed February 6 in the line of duty. Our thoughts and prayers go out to Officer Simmons' wife and two children. First posted 13 February 2008
WOD 2: Death by pull ups:
One pull up the first minute, two the next, three the third, and so on unti you cannot complete the required pull ups in the minute. Record the last minute you were successful.